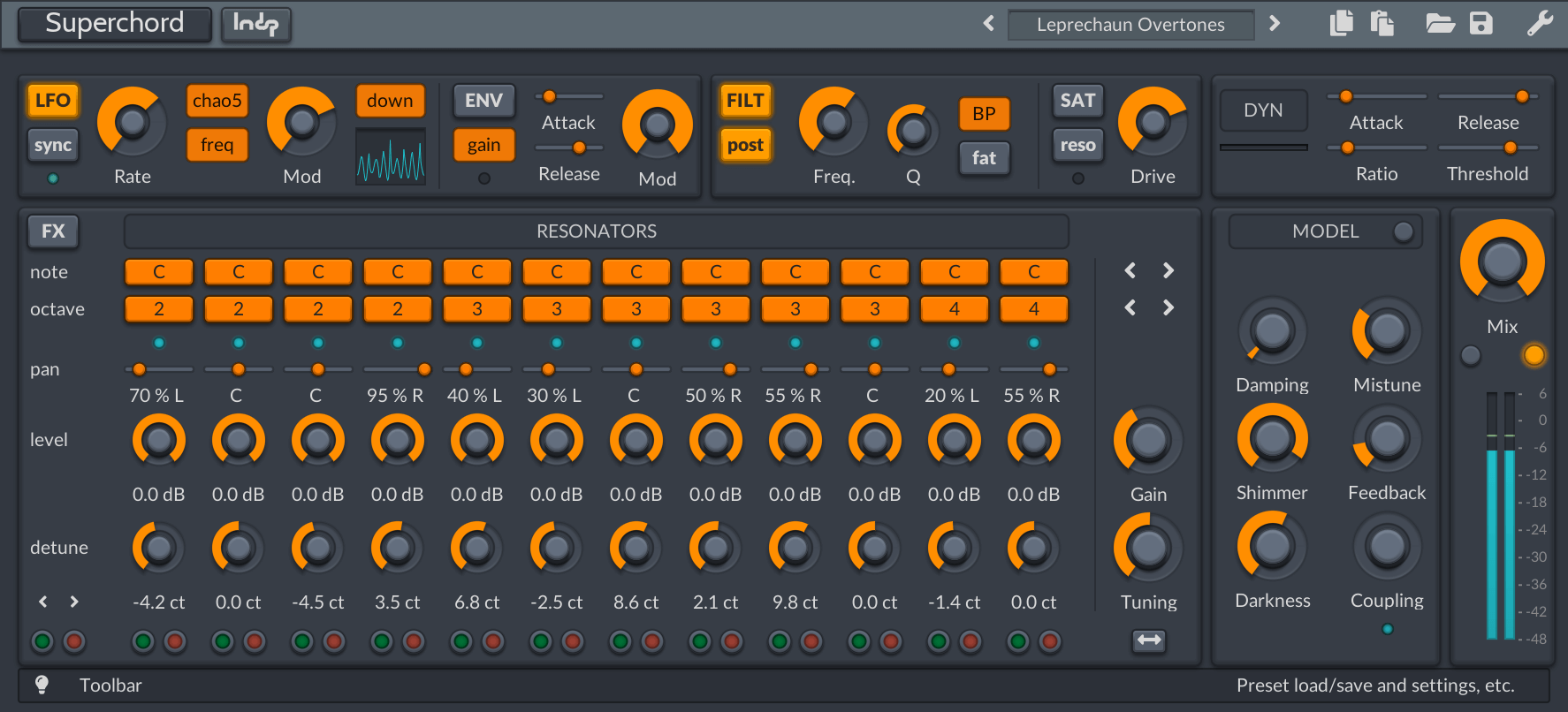 Sympathetic string resonator
Superchord
Superchord is an emulation of sympathetic string resonance, designed to add complex and evolving harmonic textures to your sounds.
Dual effect / MIDI instrument mode
AAX, Audio Unit, VST, VST3, NKS support
Compatible with PC | macOS | 64-bit | Apple Silicon
Unobtrusive copy protection
Comprehensive user manual
Sympathy for the audio
Superchord is a novel effect plug-in which emulates virtual strings resonating in sympathy with the input audio.
The strings can be tuned to any pitch, and even be played live using MIDI, as an instrument.
Superchord transforms your sounds into complex, animated textures with an organic quality.
It can also be used as a special kind of reverberation to add a touch of ambience to your tracks.

Superchord opens a myriad of possibilities for musicians, producers and sound designers alike.
A wide range of applications
Add virtual sympathetic strings to any instrument such as guitar, piano, etc.
Imprint a harmonic layer onto rhythmic loops, preserving source dynamics
Get inspired by mutating existing sounds into something new
Create otherworldly special FX for sound design
Tweaker's delight
12 string resonators with individual and global settings
Assignable LFO and envelope follower
Filter and saturation modules
Dynamics model, controlling string energy characteristics
String model parameters, controlling timbre and other qualities
Instrument mode for live playing

Hands-on control
Deep host integration with direct access to automation (AAX / VST3) and quick control mapping (VST3)
Native Instruments NKS FX support for seamless integration with Komplete Kontrol and Maschine
Coarse/fine control adjustment using modifier keys
Mouse wheel support
Convenience functions such as parameter reset, randomize and more through context menus

Reactive user interface
Scalable user interface with clean 2D vector design
HiDPI | Retina aware
Preset browser with more than 50 factory presets included
Context-aware interaction and help system
Selection of graphic skins
GPU-accelerated graphics engine for high refresh rates and minimal CPU usage
Comprehensive metering for all key elements of the signal chain

Pristine audio processing
Optimized audio engine with 64-bit double precision path
Sample accurate automation
Glitch-free parameter changes
Integrated mini-mixer with solo, mute and defeat

Specifications
Audio
64-bit double precision internal processing
Stereo/mono operation
Sampling rate up to 384kHz
Supported formats
Avid AAX
Apple AU
Steinberg VST2
Steinberg VST3
Supported platforms
Microsoft Windows 7 to 11 (64-bit)
Apple macOS 10.14 (Mojave) to 13 (Ventura)
Other OS versions are not officially supported, however the plug-in may still run.
System requirements
Intel 64-bit compatible processor with SSE2 instruction set or Apple M1
2GB RAM
OpenGL 3.2 capable graphics
1440 × 900px or 1280 × 960px or higher resolution monitor
Host compatibility
Pro Tools 2019.5 and above
VST, VST3 or AU compatible host
Maschine 2.7.5 / Komplete Kontrol 2.0 for optional NKS FX support
Verified by Tracktion

pluginval
Please check our FAQ for detailed host compatibility information.
VST is a registered trademark of Steinberg Media Technologies GmbH.
Audio examples
The dry sound plays for a few seconds, then Superchord is engaged and parameters are tweaked. No additional processing except from a light touch of limiting and reverb was used.
String Vibes
The effect is engaged at 0:16, the strings start resonating in sympathy along with the main chords. Listen to the strings' sustained resonance at 0:29. At 0:33, we modulate the pitch for an effect reminiscent of a Leslie rotating speaker. And again at 1:06, we enter 'infinite' resonance .
World Drums
The effect is engaged at 0:12, with resonators tuned to a minor chord. We then turn up the saturation at 0:23.
Stargazing
We start with a dry synth loop, and toggle the filter on and off a few times at 0:13. At 0:24, we start cranking down the damping knob. Finally we go a bit crazy on the filter modulation towards the end at 1:02.
Digidjeridoo
Using a plain repetitive synth line, we kick in the effect at 0:07 and apply chaotic waveform LFO filter modulation. We then play around with LFO frequency at 1:07.
Savage Feedback Basement Party Loop
We run a basic 4×4 pattern run through the 'Drum Destroyer' preset and tweak the knobs. We start increasing saturation at 0:04, and move the feedback control up and down. At 1:16, we achieve a stutter effect using the LFO modulating the gain. We end at 2:05 with the 909 really wanting to be Van Halen's guitar ...
Hard Resonance
Here we fiddle with the 'Evil Rubber Tire' preset, mainly tweaking the filter. The effect fades in at 0:03, with mild damping. At 0:31, we play around with the cutoff frequency for some classic filter antics. At 1:12 we push the resonance to get harmonics that ride above the main sound.
Assorted SFX
A stringy bubbly thing effect is turned on at 0:04. Cosmos verb preset with pitch tweaking is then featured at 0:28. A 'boing' sound goes through various presets at 0:41, and dog barks starting at 0:51. At 1:53 .. and now for something completely different. Are these sheep from hell at 2:13 ?